Search the Plant and Flower Guide:
Loading
Aquilegia Flabellata
Aquilegia flabellata belongs to the buttercup flower family, the Ranunculaceae. This columbine flower is commonly known as Fan Columbine or Oriental Columbine.
This herbaceous perennial columbine flower is native to Japan and eastern Asia.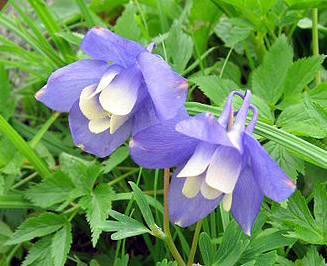 Photo: Σ64
This plant has two-toned of blue and white and rather large flowers. The spurs are only about 3 centimetres (1 inch) long. The flowering time ranges in general from late April to early June.
The stocky plants grow between 20 and 45 centimetres (8 inches and 1.5 feet) tall and about 1 foot wide. The leaves are blue-green in colour and the distinctive rounded leaflets are rather compact and tight.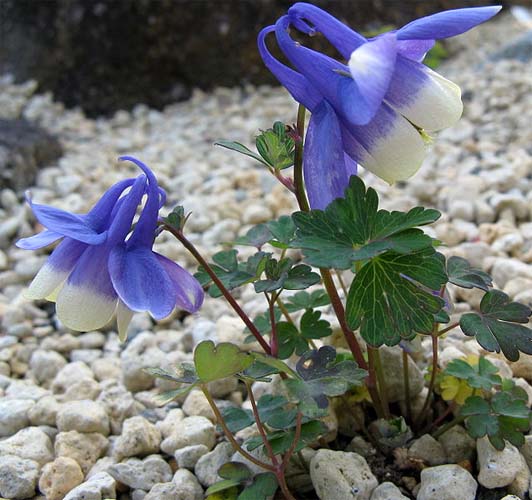 Photo: kenpei
The Fan Columbine is a popular garden plant and many hybrids have been cultivated from this wild flower.

List of Aquilegia Flabellata Hybrids:
A. flabellata 'Alba' (Dwarf Fan Columbine)
A. flabellata 'Black Barlow'
A. flabellata 'Blackcurrent Ice'
A. flabellata 'Blue Angel' (Japanese Fan Columbine)
A. flabellata 'Ministar'
A. flabellata 'Nana Alba'
A. flabellata 'Sapphire'
A. flabellata 'Verna Alba'
A. flabellata 'White Angel'
A. flabellata double white
A. flabellata f. alba
A. flabellata f. alba 'White Angel'
A. flabellata f. kurilensis 'Rosea' (Dwarf Fan Columbine)
A. flabellata nana yezoense
A. flabellata soft pink

A. flabellata Jewel Serie
A. flabellata 'Amethyst' (Jewel Serie)
A. flabellata 'Blue Jewel' (Jewel Serie)
A. flabellata 'Diamond' (Jewel Serie)
A. flabellata 'Pink Jewel' (Jewel Serie)
A. flabellata 'Pink Topaz' (Jewel Serie)
A. flabellata f. alba 'White Jewel' (Jewel Serie)

A. flabellata Cameo Serie
A. flabellata 'Cameo'
A. flabellata 'Cameo Blue and White' (Cameo Serie)
A. flabellata 'Cameo Blue' (Cameo Serie)
A. flabellata 'Cameo Blush' (Cameo Serie)
A. flabellata 'Cameo Mix' (Cameo Series Blue and White Columbine)
A. flabellata 'Cameo Pink and White' (Cameo Serie)
A. flabellata 'Cameo Pink' (Cameo Serie)
A. flabellata 'Cameo Rose and White' (Cameo Serie)
A. flabellata 'Cameo Rose' (Cameo Serie)
A. flabellata 'Cameo White' (Cameo Serie)

A. flabellata Fantasy Serie
A. flabellata 'Fantasy Blue'
A. flabellata 'Fantasy Deep Purple'
A. flabellata 'Fantasy Light Salmon'
A. flabellata 'Fantasy Pink'
A. flabellata 'Fantasy Purple'
A. flabellata 'Fantasy White'

A. flabellata State Serie
A. flabellata 'Georgia' (State Serie)
A. flabellata 'Vermont' (State Serie)

A. flabellata var. pumila
A. flabellata var. pumila (Dwarf Fan Columbine)
A. flabellata var. pumila 'Alba' (White Dwarf Fan Columbine)
A. flabellata var. pumila 'Atlantis'
A. flabellata var. pumila 'Flore Pleno'
A. flabellata var. pumila 'Rosea'
A. flabellata var. pumila 'Silver Edge' (Dwarf Fan Columbine)
A. flabellata var. pumila 'Snowflakes'
A. flabellata var. pumila f. alba
A. flabellata var. pumila f. konoi
A. flabellata var. pumila f. kurilensis

Return from Aquilegia Flabellata to Columbine Flower Plants
Return from Aquilegia Flabellata to Homepage